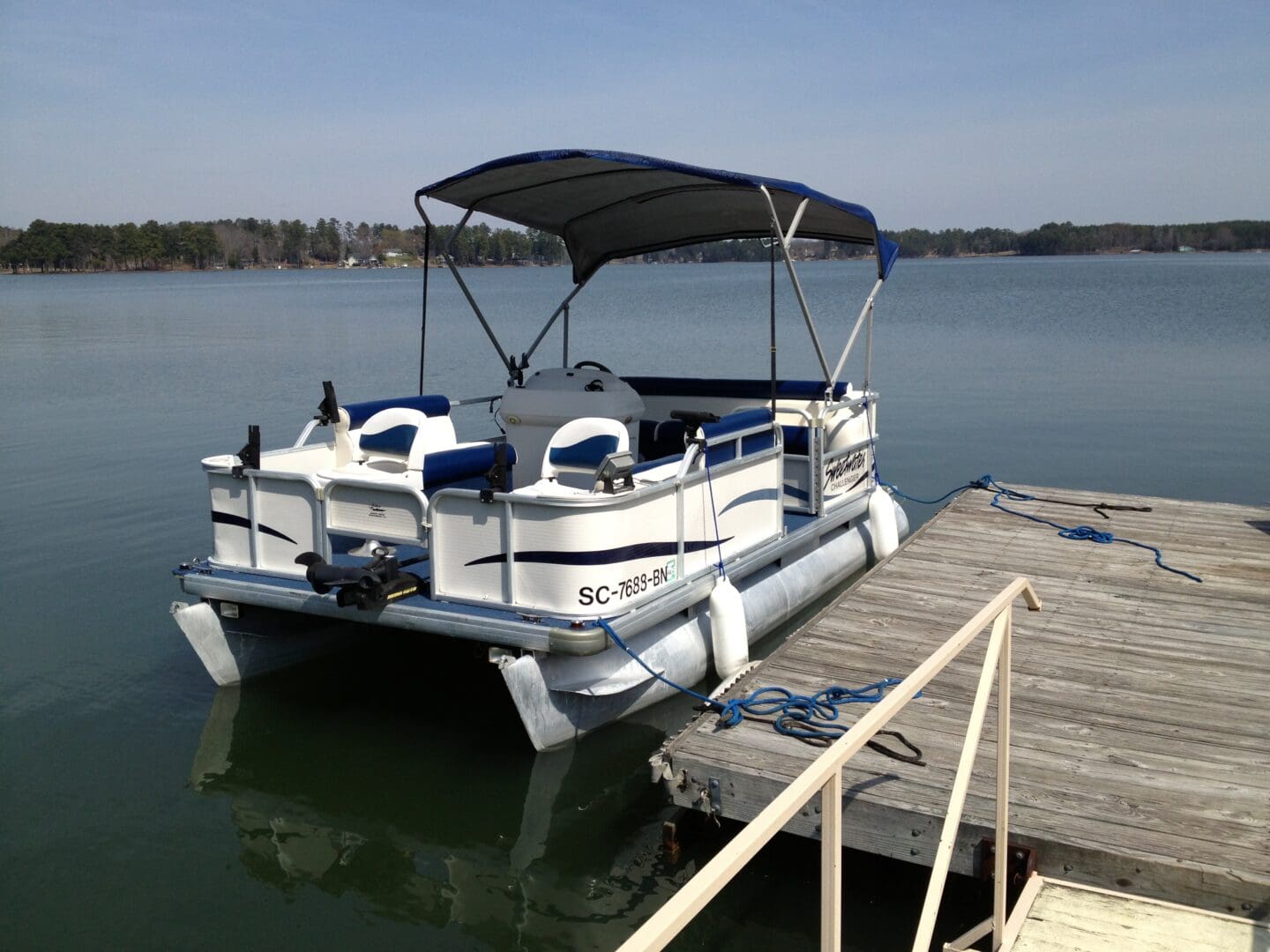 The pontoon boat is 16-feet-long, has a Bimini Top, a 50hp Suzuki 4-stroke Outboard with Trim N Tilt and 18-gallon gas tank.  It has a removable swim ladder, a Lowrance X-125 graph depth finder, rod holders, trolling motor, fire extinguisher, and life jackets.  A tube for tubing is also available.
The pontoon is shared between the two properties, on a first reserved basis.
Rates for the Pontoon Boat
(renters buy gasoline)
$150.00 per day or $800.00 per week for Cottage Tenants, or $200.00 per day for all others
Pontoon Rental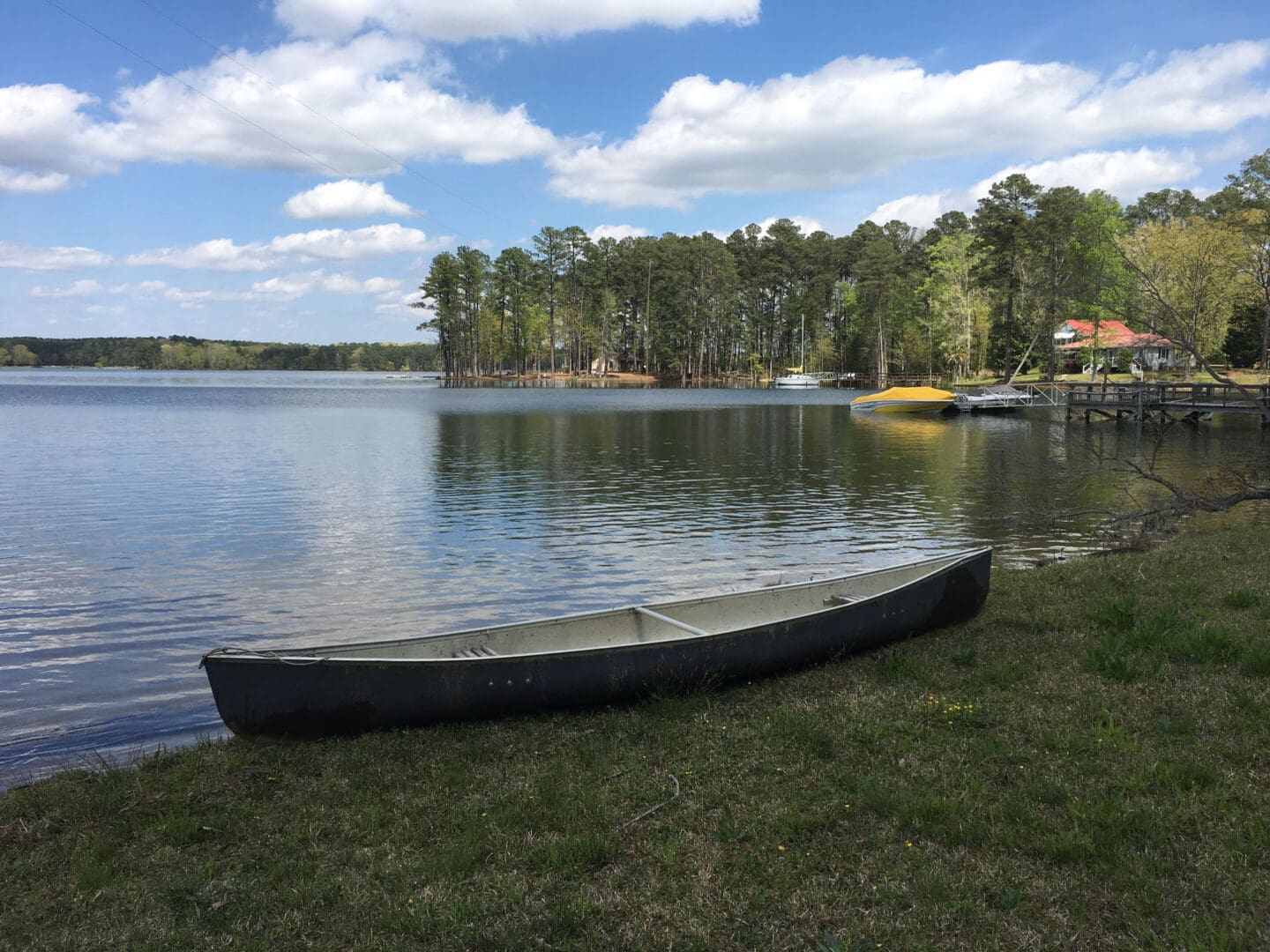 A canoe is also available for use, on a shared basis, between the two properties, at no charge
Canoe
This is the first time that we have stayed at Rick and Randi's rental. The house was very clean. Rick was very helpful getting us settled in and answering any questions that we might have. The lake is a great place to fish and just relax. We highly recommend this to others, who want to stay on Lake Murray. The best thing we like is that you can bring your pet with you on vacation. My husband and I hope to rent again in the future.
 My wife and I have stayed at this rental many times in the last 5 years. We have been here in spring, summer, fall, and for extended periods in the winter months. We keep coming back because it's comfortable, has everything we need, and is in a great location. Our dog and 4 grandkids love exploring this 6-acre point. There are not many rentals with this much outdoor space. Owners Rick and Randi are always very helpful to their guests and have become valued friends to us. Rick showed me how to catch stripers on our first visit. I still learn something new every year but do pretty good on my own now. When we leave for home we are already planning our next visit.
My family and I recently spent an amazing week at the cottage on Burke's Landing. From the moment we arrived until the moment we departed, we enjoyed every facet of Lake Murray and the surrounding area. Upon arrival, Rick and Randi ensured that we were settled in and any questions we had were answered. The cottage which is nestled on a small point with great views, was immaculately clean and had everything that we needed. Although we spent most of our time on the lake either boating or swimming, we did venture out to some of the local restaurants and the local mall which are all within a short drive. Rick was always available and always gave us tips on where and what the fish were biting which led to my youngest daughter catching her first striped bass which is a memory we will never forget. We enjoyed watching the sunrise and set every day on the dock and we enjoyed the quiet and tranquility that the cottage afforded us. We had a truly amazing time and I cannot say enough about our stay and the hospitality that Rick and Randi provided us. As a military family who have traveled extensively, we have been to few places that were as good as advertised, but our stay at Burke's Landing was far better than advertised and we will back next year to enjoy it all over again. My family and friends already know, but if you are looking for that perfect family getaway, give Rick a call and schedule your next vacation at Burke's Landing and Lake Murray. A very big thank you to Rick and Randi, we had an amazing time and look forward to seeing you guys next year.